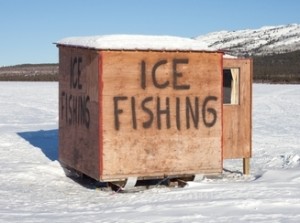 Anglers in the province have a little more time before to move their fishing shelters off Saskatchewan lakes.All shelters south of Highway 16 must be
removed
by March 15 and shelters in areas north of Highway 16 must be removed by March 31.
Each spring, a number of ice fishing shelters are abandoned on the ice of Saskatchewan lakes.
The shelters need to be removed because they can pose a danger to boaters, water-skiers and others.
If shelters are not removed, owners could be prosecuted, and the structure and contents may be
confiscated and removed
by the ministry.
Any litter must also be removed when ice shelters are taken off the ice and structures must be moved to a location above the high water mark.
Ice fishing shelters must have the owner's complete name, address and phone number on the outside in legible letters that are at least 2.5 cm high.
In southern and central Saskatchewan, ice fishing season closes on March 31 and on April 15 in the north.