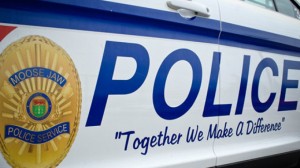 At least one person was hit by a vehicle Tuesday night in Moose Jaw as police were responding to reports of a dangeros driver.
On the corner of 4th Avenue NE and Athabasca Street East, police tried to stop the vehicle  – but it collided with another motorist.
The vehicle fled the scene of the accident, narrowly missing a Police Officer.
A short distance away the accused lost control of the vehicle and fled on foot.
The accused was apprehended by police immediately.
A 47-year old man is facing charges of dangerous operation of a motor vehicle, flight from police, fail to stop at the scene of an accident, impaired driving and exceed .08.