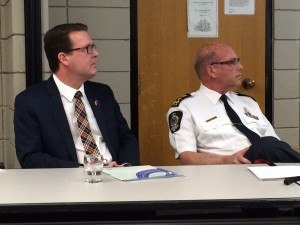 A survey released by the Regina Police Service shows residents think overall quality of the service has improved since 2013.
Conducted in September 2015, the telephone survey of 462 people looked into issues like trust of the police service, fear of crime in the city and quality of service.
The survey found men and aboriginals were less likely to be satisfied with police service.
Chief Troy Hagen says it's not a surprise to see the numbers, but thinks they've been making progress.
"We have work to do with enhancing relationships."
Of the 462 people randomly surveyed, 84 percent were white, and aboriginals were found to be slightly under-represented.
The report was conducted by Dr. Nicholas Jones and Dr. Rick Ruddell of the University of Regina's Department of Justice.