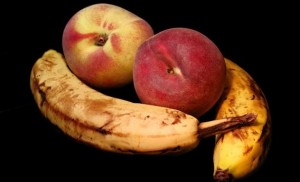 Loblaw says it will introduce more types of cheaper, bruised and misshapen produce across the country.
Its ugly duckling line of produce is aimed at shoppers looking to save money on the rising cost of fresh food.
The company launched its Naturally Imperfect line last March, offering misshapen apples and potatoes to Ontario and Quebec shoppers, and then later expanded to select stores in other provinces.
Based on the program's success, Naturally Imperfect will now include unsightly peppers, onions and mushrooms for consumers in Quebec and Ontario.
Meanwhile, Loblaw's Real Canadian Superstore, Your Independent Grocer and most No Frills stores in B-C, Alberta, Saskatchewan and Manitoba started stocking less-than-perfect apples and peppers yesterday.
Atlantic Superstore and Your Independent Grocer locations in the Atlantic provinces started stocking Naturally Imperfect apples.
(The Canadian Press)