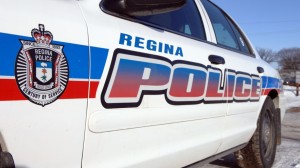 A 29-year old man has been charged in connection to an eight-hour stand stand off with police in the 400 block of Royal Street.
Regina Police were called out to the incident on Wednesday night, in Regent Park, after a report of an altercation between two people – one man armed with a knife.
Before police arrived, a 43-year old woman was able to leave the house, but there were still a number of people inside the house, including five children between the ages of six months and five years.
Once on scene, police were able to persuade two more people to leave the house, leaving the suspect, a woman and five children still in the home.
The Crisis Negotiators Team arrived on scene and were able to persuade the suspect to come out of the house peacefully, and taken into custody at about 7:30 a.m. on Thursday.
No one was injured during the incident.
29-year old David Joe Jerome is charged with assault with a weapon, uttering threats and breach of undertaking.
Jerome will make his first court appearance in Provincial Court on Thursday.