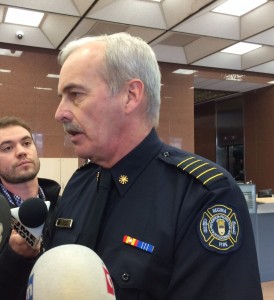 Both the City of Regina and Regina Fire and Protective Services failed to receive notification when a rail car rolled away from its yard and made a trip through the city.
The car escaped Co-op refinery in the early hours of Thursday morning, and traveled about four kilometres before coming to a stop.
Mayor Michael Fougere says they're looking into why they didn't hear about the incident until Friday morning.
"We were not notified, the police service was not notified, in fact we found out through media reports this morning, so we're quite concerned about that."
The car crossed a number of streets and level crossings during its trip, but no one was hurt.
Fire Chief Ernie Polsom says there is an investigation into the incident and why they didn't hear anything.
"The transportation regulatory agencies will be doing an investigation. We are insisting on being a part of that, because there is clearly a public safety issue that affects Regina residents."