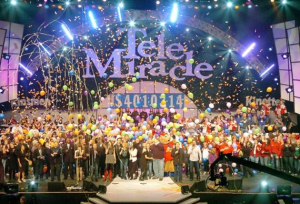 This weekend Telemiracle 40 will be presented live from Conexus Arts Centre in Regina.
But before the big event, there was another successful Mini-Miracle by the Sturgis Kinsmen and Kinnettes.Thursday's event raised $29,500 which will be presented at the
TeleMiracle
telethon in Regina this weekend.And as the Kinsmen Foundation prepares for the milestone 40th airing of Telemiracle, the foundation is
took steps
this week to preserve all known footage from the first 39 years of Telemiracle.
The Kinsmen Foundation gave a digital copy of all known show footage to the Provincial Archives of Saskatchewan for safe keeping.
The Kinsmen Foundation makes miracles happen by providing Saskatchewan people and organizations with special needs equipment and access to medical assistance.
Through Telemiracle dollars, the Kinsmen Foundation is able to donate mobility equipment, travel costs to access medical facilities, community vans and equipment in hospitals and health centres.
Telemiracle 40 airs this weekend starting Saturday at 8 p.m. and runs until Sunday at 5 p.m. on all CTV Saskatchewan stations.