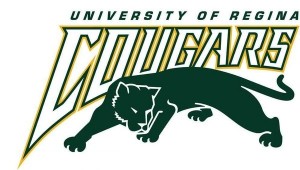 The #5 ranked Regina Cougar ladies basketball team are one win away from going to the Canada West final four.
The Cougars got 22 points from Charlotte Kot, and another 19 from Sidney Dobner as they beat Calgary 69-55 at the CKHS Friday night in the opening game of a best of 3 quarter-final series.
Game 2 will go Saturday night at 7 with Game 3 going Sunday night if needed at 7.
The mens team were looking to complete an upset of Thompson Rivers University on Friday night as the teams met in Kamloops in Game 2 of their best of 3 matchup, but they could not do it.
The Cougars hung with the Wolfpack right to the end before dropping a 90-85 decision.
Aaron McGowan had 28 for Regina in a losing cause.
The series will wrap up in Kamloops with a 9 PM tipoff Saturday night.