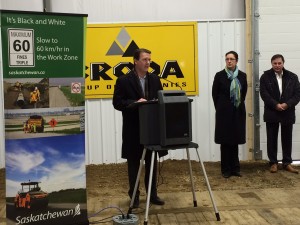 Highways and Infrastructure Minister Nancy Heppner says the Regina Bypass project is on time and on schedule.
Heppner says there are at least 22 local companies are playing roles in the creation of the bypass.
"There's over 8,200 jobs that are going to be part of this. There is great benefits to Saskatchewan companies, Saskatchewan workers, and when the bypass is completed, obviously there is great benefits to the people who drive it everyday."
Regina Mayor Michael Fougere says the bypass will benefit the city greatly with less truck traffic on Victoria and Dewdney Avenue.
"These large trucks, by no fault of their own, are pounding our streets incredibly. Victoria Avenue is the busiest street in the city and it's been pounded for years, and reconstruction of that is ongoing."
Al Rosseker, Executive Director of the Saskatchewan Trucking Association says the bypass will remove 50 to 60 percent of truck traffic coming into the city, which is a major issue right now.
"The trucks will swing around to the south. It's going to give us greater access to the U.S., quicker access to the U.S. and quicker access to western Canada."
The project is expected to be complete by 2019.