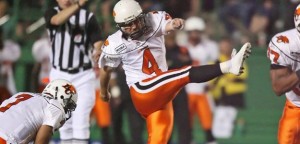 Veteran CFL kicker Paul McCallum will sign a one-day contract with the B.C. Lions today, allowing him to retire with the team he helped win two Grey Cup titles.
McCallum dressed for 339 games over 23 CFL seasons with B.C., Saskatchewan and the Ottawa Rough Riders, who ceased operations in 1996.
The two-time CFL all-star was named the top Canadian of the 2006 Grey Cup game, booting six field goals in the Lions' 25-14 win over Montreal.
He also claimed the league's most outstanding special teams award in 2011.
McCallum leaves with the second-highest CFL career point total with 3,131 and the second-most field goals with 718.
McCallum also had stints in the World League of American Football and the XFL.
(The Canadian Press)