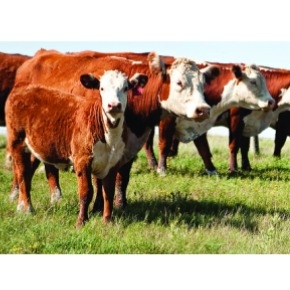 Saskatchewan feeder cattle prices were lower this past week due mainly to the rising Canadian dollar.
Feeder steers fell from one to nine dollars per hundredweight, with the largest decline in the 400 to 500 pound category.
The average drop was over three dollars per hundredweight.
The average for feeder steers in the five to six hundred pound category was 261 dollars.
Feeder heifers were mixed with prices from three dollars lower in the 5 to 6 hundred pound category to five dollars 21 cents higher in the 3 to 4 hundred pound weight category.
Meanwhile, the price for D1, D2 slaughter cows rose 1 dollar 54 cents to average 108 dollars 29 cents per hundredweight, while the price of D3 slaughter cows increased 1 dollar 95 cents to average 96 dollars 70 cents per hundredweight.
The latest Canadian cattle inventory shows 11.96 million head as of January first, up .3 per-cent from the previous year.
Total beef cows showed a small decline, but an increase in beef replacement heifers indicates some herd expansion should be underway in Canada in the coming year.
In Saskatchewan, total cattle numbers are 2.28 million head, down .7 per-cent from a year earlier, as industry consolidation continues.
Beef replacement heifers are up 4.6 per-cent to 164 thousand head, again likely indicators of potential expansion in the Saskatchewan breeding herd over the next year or two.