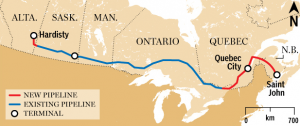 Quebec's environmental regulation agency was delayed for about 15 minutes Monday night at its first public hearings on the Energy East pipeline project because of protesters.
TransCanada, looking to pipe oil from Alberta/Saskatchewan to New Brunswick for refining and shipment overseas, was about to give its presentation to the agency in Levis near Quebec City.
But just as its vice-president began to speak, protesters started chanting and singing and unfurled a banner denouncing the pipeline.
The agency investigating the 15.7-billion-dollar proposal will hear from communities along the proposed route before producing a report to Quebec's environment minister.