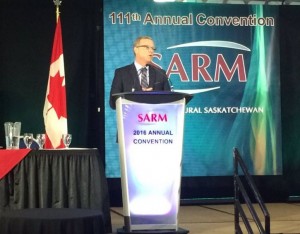 Saskatchewan Party leader Brad Wall is touting the Saskatchewan Party's rural issues during an address to the Saskatchewan Association of Rural Municipalities convention in Regina.
Wall told the crowd "every year at SARM, the NDP would talk about doing something with the education property tax on farmland and the municipal revenue sharing formula, but they never did with his government taking issue on those two topics shortly after assuming power.
During his speech, Wall also announced a new tax credit worth 330 dollars a year for volunteer firefighters and first responders. That credit will cost the province about one million dollars and will be implemented as the province's finances strengthen.
NDP leader Cam Broten also addressed delegates on Wednesday afternoon.
Broten admitted the NDP have made mistakes in the past, but as its new leader, he's working to correct them.
"If we cut the waste on wasteful programs and invest in public services the money can be there."
Broten says the SaskParty has made its fair share of errors as well.
"We see continued over reliance on our province's consultants, on gravy planes, we see $150 million plowed into a LEAN experiment gone horribly wrong."