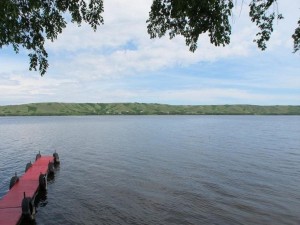 The Water Security Agency  is advising the public of operations in the Qu'Appelle River Basin that may affect the ice condition for lakes in this region.
Temperatures are forecasted to be above normal later this week and through the weekend and are expected to result in an early snowmelt runoff in the Qu'Appelle River Basin.
Since the runoff potential is well below normal in the area, WSA will be operating the Craven, Echo Lake, and Crooked Lake control structures this week to store water in an effort to bring Last Mountain, Pasqua, Echo, and Crooked Lakes near the top of their desirable summer operating ranges.
This will result in an increase in the water level on these lakes.
This may also result in some short-term decreases in lake levels at Mission, Katepwa, and Round Lakes.
Changing lake levels combined with thinner than normal ice cover due to the mild winter may result in extremely hazardous conditions on the Qu'Appelle Lakes.
The above-normal temperatures expected in the coming days and weeks will affect ice conditions on many other lakes across the province and may create serious hazards and unsafe conditions.
The Water Security Agency is advising the public to take extreme caution when on ice covered lakes during this time.