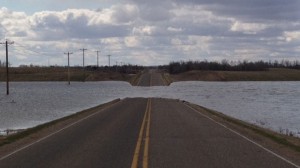 Rural municipal delegates meeting in Regina are hoping for more support for farmers facing flooding issues.
SARM president Ray Orb says some farmers are not expected to be seeding this spring because of ongoing high water levels.
Orb says delegates approved a resolution seeking changes to crop insurance for flooded farmers.
Orb says delegates face issues with beavers blocking waterways and causing flooding as well as other wildlife problems.
The SARM convention wraps up Thursday in Regina.