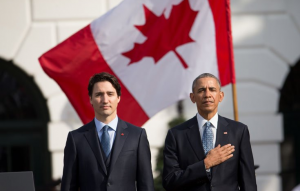 Hundreds of people gathered Thursday on the lawn of the White House in anticipation of Justin Trudeau's arrival, making for a scene unlike any that has greeted a Canadian prime minister in recent political memory.
The crowd basked in unseasonable warmth under crystal-clear blue skies while a military brass band set the mood on the lawn facing the National Mall.
The building, an icon of presidential power, was decked out in Canadian and U.S. flags up to the balconies of the famous columns of the portico.
Many in the crowd were Canadian expats some of whom marveled at the rarity of hearing Americans ask them about their prime minister back home.
President Barack Obama says Canada and the United States are blessed to be neighbours, allies and the closest of friends even if they may disagree about beer and hockey.
The president is welcoming Prime Minister Justin Trudeau and his wife, Sophie Gregoire-Trudeau, to the White House and remembering a visit by Pierre Trudeau a generation ago.
He says Americans don't always express their appreciation for their Canadian friends.
Amid unseasonable warmth, Obama recalls that his first foreign trip as president was, unfairly, to Ottawa in February.
For good measure, he's thrown in a few Canadianisms, including an "eh" and a "bonjour."
Trudeau and Obama stood to attention as a 19-gun salute rang out and a band played both national anthems.
Both leaders then ventured to the edge of the lawn to shake hands with some gathered schoolchildren, many of them brandishing small U.S. and Canadian flags.
(The Canadian Press)