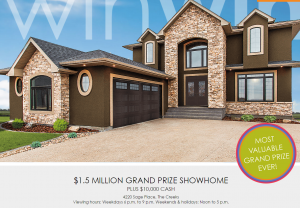 The Hospitals of Regina Foundation says just two weeks after the public launch, more than half of the available tickets in the Hospitals of Regina Foundation Home Lottery have already been sold.
"The Home Lottery has great momentum. We would like to thank everyone who has already supported the lottery and we encourage everyone to act quickly and secure their tickets before they are all gone" said Dino Sophocleous, President and CEO. "Our Lotteries help save lives and that is made possible by our generous supporters."
If all tickets are sold before the early bird deadline of April 22, all 2,005 prizes will be awarded early, including the $1.5 million grand prize showhome built by Harmony Builders, the Hawaiian bonus prize and the BMW early bird prize.
The 50-50 Add-On is already $315,000 and growing.
The winner keeps half of the total jackpot.
Additionally, the Cash Calendar Add-On offers daily cash prizes throughout the month of June.
Tickets are $100 each, 3 packs for $250, 5 packs for $375 and super packs for $500.