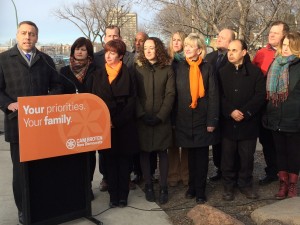 Calling it "toxic," NDP Leader Cam Broten says he will cancel the toxic John Black Lean program – if his party is elected in the April 4th provincial election.
Broten says "tens of millions of dollars" have been wasted in this program annually.
This isn't the first time Broten has made this pledge to do away with the outside consultants.
The contract with lean consultants John Black and Associates was signed in February 2012 with Broten and the New Democrats being very vocal in its opposition to the plan.
Closer to the writ being dropped, Broten has increased his digs against the Sask Party, saying it was "wasting money" over the Lean Program.
Broten says instead of investing in mental health care coverage for children and youth or delivering on shorter emergency room wait times, the Sask. Party chose to spend millions on consultants.
The NDP leader says Saskatchewan's health care system needs more care-aides to look after seniors; not more Lean consultants following nurses around with stopwatches.
Broten made the statements in Saskatoon before re-iterating them in Moose Jaw where he stated he would fix the disastrous lean design to the new Wigmore hospital in the city.
Broten told reporters in Moose Jaw a brand new hospital shouldn't have to be fixed, but we do because of this failed experiment brought on by the Saskatchewan Party.