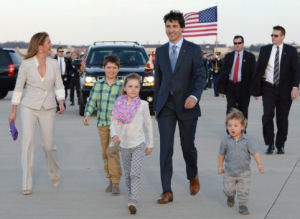 His slogan is "Sunny Ways" and nature co-operated as Prime Minister Justin Trudeau touched down in Washington, D-C Wednesday under blue skies and 24-degree temperatures.
Trudeau's first prime ministerial visit to the United States got underway without a hitch as he stepped off the airplane with his wife and children.
He was greeted with a red carpet, a band, and Canadian and American dignitaries.
Anticipated announcements on bilateral issues like climate change, next-generation border security and the Arctic are merely one part of the story of the three-day trip.
The highlight will be the first state dinner for a Canadian in 19 years.
The visit has prompted a rare degree of American media attention.
A more gushing example was in the tabloid Politico headline, "Justin Fever Hits Washington," followed by a story where a senior White House official admitted having a bit of a crush on the young leader from the north.
Trudeau will hold news conference Thursday with President Barrack Obama where the two are expected to announce closer co-operation on climate change, border security, and the Arctic.
Trudeau will then go for lunch at the State Department, meet with lawmakers from both parties, and will be the guest of honour at a state dinner at the White House.