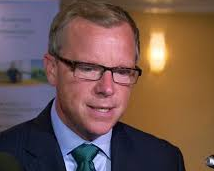 On the campaign trail today, Saskatchewan Party leader Brad Wall is using his day to highlight the province's strong economic record and plan.
Wall is in Saskatoon this morning where he is announcing a new tax incentive to commercialize innovation in the province if re-elected.
The new incentive will reward firms for developing and commercializing new patents and intellectual property in Saskatchewan.
Wall says this would be available to all sectors with the emphasis being on the agriculture, manufacturing, energy and mining sectors.
–
NDP leader Cam Broten is hoping to let Saskatchewan voters know of his desire to decrease the amount of MLA's in the province.
Broten says he is promising to once again re-draw the electoral map if elected and undo the Saskparty's increase from 58 to 61 and reduce the number of MLA's to 55.
Broten says no one thinks more politicians are needed, so why did Brad Wall decide to add three more. He says the Saskatchewan Party is spending more on 3 MLA's when the money could be used in areas like health care and education.