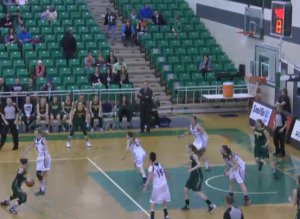 The University of Regina Cougars womens basketball team has advanced to the CIS National Championship for the first time since 2013.
The Cougars, thanks to 15 point efforts from Charlotte Kot and Katie Polischuk, defeated Grant McEwan 65-59 in a Canada West semi-final game in Saskatoon.
With Canada West sending at least two teams to the nationals in Fredricton, it means win or lose on Saturday the Cougars will participate in the nationals for the 17th time in school history.
They will meet the Saskatchewan Huskies in the final game. The Huskies beat Alberta to advance.