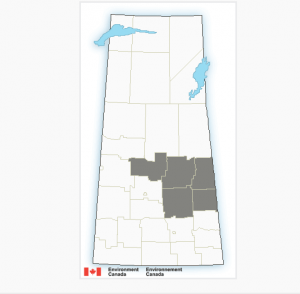 Environment Canada says there could be plenty of snow on the way for east/central parts of the province.
The weather office says after several days of springlike weather, it looks like winter is set to return.
A storm system developing over the Dakotas Monday will begin to spread an area of rain into east central Saskatchewan.
As the night progresses, increasing northeast winds will draw colder air into the system, causing rain to change to snow tonight.
The snow is expected to continue much of Tuesday over the Parklands regions, heavy at times.
Accumulations of 10 to 20 cm are likely in many areas with local amounts of 30 cm possible by Wednesday morning.
This system is still developing and there remains some uncertainty about the strength of the system and projected snowfall amounts.
Warnings may be required for some areas once more definite information becomes available.
In the meantime, residents of central Saskatchewan should prepare for the return of winter weather Tuesday and monitor forecasts and possible warnings on this developing storm system.