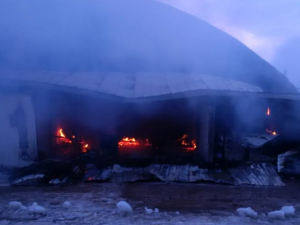 The cause of a weekend fire that destroyed a horse training facility in Rama this weekend is under investigation.
Saturday's blaze was in the former curling and skating rink, and mayor Darrell Dutchak says the loss is a blow to his community, since the owner had planned to stage some shows.
The shows were to be horse-related, which would mean people coming in to Rama from elsewhere.
Dutchak says every time you lose a building like this in a small community, it hurts.
The curling rink was built in 1967, the skating rink in the 70's.