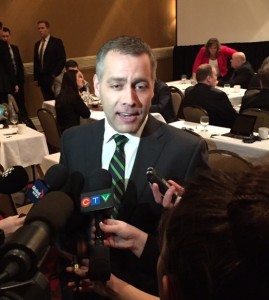 NDP leader promises tax cut for middle class in Saskatchewan election
NDP Leader Cam Broten says his message on the Saskatchewan election campaign trail this week will be about affordability.
Broten says if elected, the NDP would implement a small tax cut for middle-class families, saving nearly 70 per cent of people about $90 a year.
The move would be done by reducing the current top tax bracket from $127,430 to $125,540.
Broten says the tax cut would be largely offset by increasing taxes one per cent for people who make more than $175,000.
The NDP leader tried to stay on message while fielding questions about the removal of four candidates over inappropriate social media posts.
Broten say four new women candidates have been chosen to run in those seats, meaning there are now more women than men candidates running for the NDP.
Saskatchewan Party would help young adults with down payments; Wall
Saskatchewan Party Leader Brad Wall has announced a plan to help young adults buy their first homes.
The premier says his government, if re-elected, would allow anyone receiving benefits under the graduate retention program to use up to $10,000 for a down payment.
The program provides tax credits to young people who stay in Saskatchewan to work after they finish university.
Wall says many young people have told him they could afford to make monthly mortgage payments once they start working.
But they say they have a hard time saving enough for a down payment.
Wall says the program would cost $900,000 in the first year and go up to $3.6 million by the fourth year.
(The Canadian Press)