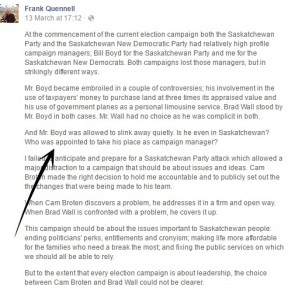 The Saskatchewan Party is squelching reports that Bill Boyd has been replaced as one of their top election campaign managers.
Kathy Young, a SaskParty spokeswoman, says Boyd remains campaign co-chair, just as he was in the 2011 election.
Former N-D-P campaign chair Frank Quennell posted on Facebook Sunday  Boyd was allowed to — quote — "slink away quietly" after being involved in controversies.
N-D-P Leader Cam Broten fired Quennell on the weekend as head of the party's campaign for not properly vetting candidates after four of them had to be removed for inappropriate social media comments