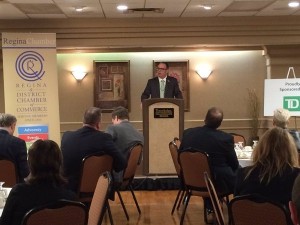 The Regina and District Chamber of Commerce will be holding six debates leading into the provincial election on April 4th.
The debates will cover health care, education, highways and infrastructure, agriculture, economy and provincial finances.
Chamber CEO John Hopkins says the debates will be broadcast on Access Television, so residents from 89 communities can tune in.
"It will be up to viewers to actually send in their questions. What are their top areas of concern, what are those questions they want us to ask?"
Representatives have been invited from the Saskatchewan Party, NDP, Green Party and Liberal Party.
There will be two debates each night, on March 21, 22 and 24.
March 21- Healthcare at 7:00 p.m., and Education at 8:30 p.m.
March 22- Highways and Infrastructure at 7:00 p.m., and Agriculture at 8:30 p.m.
March 24- Economy at 7:00 p.m., and Provincial finances at 8:30 p.m.