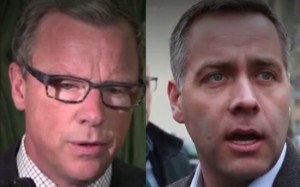 The Saskatchewan Party will release its election platform Saturday in Regina.
Earlier in the week, the NDP released theirs.
On the election trail Friday, Brad Wall touted his Saskatchewan Party as the one that would continue to focus on hospitals, schools and highways after the provincial election.
Wall says his government has made what he calls "record investments" in infrastructure over the last eight years and would continue to do so if re-elected April 4.
Wall says the use of public-private partnerships, known as P3s, has enabled the government to complete projects more quickly.
He warns the NDP would stop projects and put hundreds of people out of work by doing away with P3s.
The New Democrats have said they would shut down SaskBuilds, which brings together ministries, agencies and the private sector to develop P3s.
Later Saturday aftternoon, Brad Wall will release the Sask. Party's election platform in Sasaktoon.
Cam Broten will take the NDP to the Saskatoon Farmers' Market.