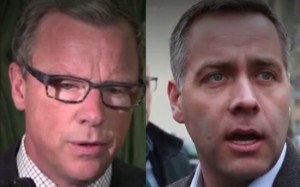 SaskParty Leader Brad Wall outlined his party's election campaign on Saturday in Saskatoon.
Wall says the platform includes very little new spending, because its goal is to return to a balanced budget in 2017-18.
He says an important initiate included in the campaign is highway repairs.
Wall says once oil is more stable, the SaskParty will commit to putting money away and create a new Saskatchewan Futures Fund.
He also announced a new measure to allow seniors with household incomes under $70,000 to defer the education part of their property taxes, starting next year.
The total cost of the platform is about $105.4 million over four years.
NDP Leader Cam Broten is criticizing the SaskParty's platform, saying it would let middle-class families down.
Broten says the plan keeps Saskatchewan spending huge amounts, and has misplaced priorities.
The NDP has plans to cut $178 million in waste during its first year, if elected on April 4.
Broten has promised lower utility rates, a tax cut for Saskatchewan's middle-class, more affordable tuition, and a property tax deferral program for seniors.