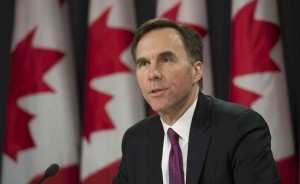 The Liberal government's maiden federal budget includes billions in new spending on Aboriginal Peoples and veterans, a revamped Canada child benefit and changes to employment insurance to soften the blow of a flagging economy.
But it comes at a cost; Finance Minister Bill Morneau is projecting a $29.4-billion deficit this year three times the promised $10 billion shortfall and a $17.7-billion deficit in 2019-20, the year the budget was supposed to be balanced.
The budget includes $2.6 billion over five years for primary and secondary education on First Nations reserves, including language and cultural programs, plus nearly $1 billion over five years for education infrastructure.
It also provides $5.6 billion more in benefits to veterans and their families over five years, but delays indefinitely a plan to spend billions more on procuring badly needed ships, planes and vehicles.
And a promised cut in the small business tax rate from 11 per cent to nine per cent has not fully materialized, falling only by half a percentage point, with the rest of the reduction deferred indefinitely.
The Liberals claim their budget will create 100,000 jobs and boost national economic growth, as measured by gross domestic product, by half a percentage point per year.
(The Canadian Press)