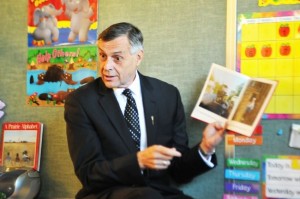 An education funding formula review may help the Prairie Spirit School Division, but now is not the time to be making announcements about staffing layoffs to make up $3 million in funding.
That is from a disappointed Education Minister Don Morgan Tuesday in response to the school division's announcement Monday.
The school division says the gap comes as a result of no increase in funding. The province says they have increased funding to the school division by 31 percent since 2007, including a 21 percent increase to preventative maintenance in 2015-16 which works out to $1.4 million.
Education Minister Don Morgan wouldn't say money is being misspent, but did say his office has heard people say there is too much money going into administrative and professional development costs.
Officials from the Ministry are set to review both those items. The provincial auditor is also set to review capital costs at the School Division after buildings have gone unattended to maintenance-wise in the last few years.
Morgan says this likely isn't a matter of funding, but rather growth being greater than the increases that have gone to the division. He says a solution may be changing borders for school divisions to spread schools more evenly.
(CJWW)