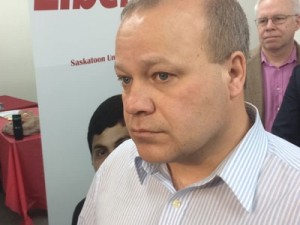 The Liberals, PCs, and Green party have all been left out of the Saskatchewan Political Leaders' Debate Wednesday night, but the show must go on.
That from Liberal Leader Darrin Lamoreux who says he is upset his party wasn't included.
Lamoreux says its not just about himself not getting the chance to debate with the other leaders, its about his full slate of 61 candidates not getting the chance to have what they believe in included in the debate.
He feels his party has a good shot to become the official opposition. He took a shot at the NDP saying they have been ineffective and nobody wants to go back to when they were in power.
He noted how industry left the province, and businesses like McGavins Bread and Molson's closed.
The only promises the Liberals are making to this point include a $13 minimum wage and ensuring there is finally some movement on construction of a new pipeline in the province.
The Liberals are running a full slate of 61 candidates in this election.
Progressive Conservative leader Rick Swenson also feels he should be in Wednesday's debate and says he will be following on social media with comments on his Twitter account as he watches the debate
(CJWW)