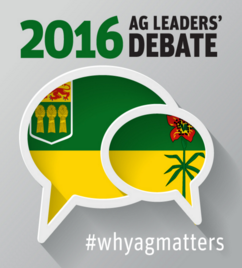 There were areas of agreement and disagreement among the five parties represented at an agriculture election debate in Saskatoon Tuesday.
The importance of reliable grain transportation and opposition to a carbon tax were common positions.
There were differences of opinion between the government and opposition parties on issues such as community pastures and water management.
Each party's representative also credited agriculture as being one of the bright spots in the provincial economy.
 N-D-P agriculture critic Cathy Sproule says her party is promising to improve rural cell phone coverage and rural roads.Lyle Stewart, who is agriculture minister in the current Saskatchewan Party government, says improvements have been made to cell phone and internet services but admits there is room for improvement.The debate was co-sponsored by the Agricultural Producers Association of Saskatchewan and was held in Saskatoon.