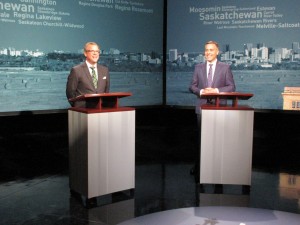 Conversations were heated during Wednesday night's Saskatchewan leaders' debate.
Both SaskParty Leader Brad Wall and NDP Leader Cam Broten were guilty of speaking over each other during each two minute long open-debate, both leaders visibly worked up.
More than half a dozen questions were asked on subjects ranging from education and health care, to the economy and environment.
Broten began his opening remarks saying if elected, his party will make every effort to cut SaskParty waste, on things like 'gravy planes', the LEAN initiative and expensive consultants.
Wall used his opening minute to talk about Saskatchewan's economy, saying it's the most important issue facing voters this election.
Wall says the NDP has made countless promises during its campaign, and failed to put a price tag on all its plans.
"You have not costed your platform, there are 18 items in your platform you have not costed."
Broten pointed out the SaskParty has put a dent in the province's economy by killing off its film industry, when they cut funding in 2012.
"It made us millions. Even the Provincial Chamber of Commerce said that for a million dollar expense, it actually brought $45 million of revenue into the province each year."
Wall says the province's economy has become more diversified under the SaskParty's leadership, allowing it to grow.
"Over the last eight years, a strong economy has allowed us to make historic investments. To hire more nurses, to hire more doctors, to build schools and hospitals, and new long-term care facilities. It has allowed us to reduce taxes for farmers, for families, for small businesses."
Broten says he's passionate about putting money into the pockets of middle-class Saskatchewan families, and cutting SaskParty waste, which he says costs tax payers millions of dollars.
"Mr. Wall won't cut his waste, he won't show you a budget, because he's hiding it."
Wall continued to ask how the NDP plan to pay for all its campaign promises, even going as far as to make a Trump jab at Broten.
"This is the Donald Trump section of your platform. Who is going to pay for these? Mexico?"
Broten's closing statement were used to bring up the GTH land deal and question Wall on why he hasn't brought forward a budget.
"If Mr. Wall can't trust Saskatchewan people with his budget, how on earth can he expect you to trust him with your vote?"
Wall finished the night by reminding residents of the strides made by the Saskatchewan Party.
"We're offering a proven record, we're offering a fully costed plan to keep the province strong."
The debate ran a total of 55 minutes, with questions from the public and a panel of journalists.