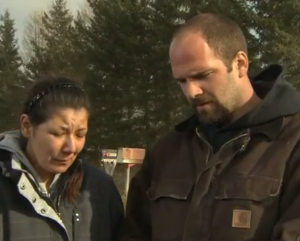 The distraught parents of a missing toddler in rural Manitoba have made a tearful plea to anyone with information to come forward.
Thomas Martens and Destiny Turner made a brief appearance outside their home near Austin this afternoon to ask anyone who may have taken their two-year-old son Chase to please return him.
They say it would be unusual for the boy to go off by himself and if he did, their dog was always with him.
Police have not ruled out foul play, but have said it is not the focus of their investigation.
The search for the little boy has expanded to include creeks and shorelines within three kilometres of the home.
Chase was last seen playing outside around suppertime on Tuesday.
The Martens say they are overwhelmed with the support they have received and only want the safe return of their son.
(Canadian Press)