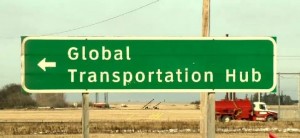 A new chapter is being written in the controversial land deal involving the Global Transportation Hub.
McNally Enterprises in a statement of claim is alleging the government threatened to expropriate lands owned by the company and offered a compensation of 9-thousand dollar an acre for almost 45 acres of land and 28 acres for 11-thousand dollars.
The claim says an independent appraisal by McNally valued the land at 38-thousand per acre, but the government rejected that.
According to the statement. McNally claims they lost over 2 million dollars as a result of this.
Speaking in Regina this morning, Saskatchewan Party leader Brad Wall says a different, independent appraisal valued the land even higher, so he maintains it was a good deal.