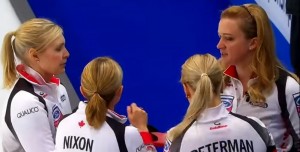 Canada's Chelsea Carey beat Scotland's Eve Muirhead 9-4 in nine ends on Thursday night at the women's curling world championship.
Although it was the last game of the round-robin portion of the tournament, it served as a virtual tiebreaker with the teams sharing identical 7-3 records heading into the match.
Canada goes on to face Russia's Anna Sidorova (8-3) on Saturday afternoon in the 3-4 Page playoff.
Carey opened the game with a single on a draw just past the button in the first end. Muirhead responded with a single in the next end, making a difficult shot through a crowded house for a tap out. Canada tapped out in the third for a single to make it 2-1.
A scoreless fourth kept the hammer for Scotland, with Muirhead taking advantage with a single in the fifth to tie it 2-2.
Carey made her biggest shot of the day in the sixth, scoring three with an easy draw after Muirhead was too light on a takeout attempt. The play gave Canada a 5-2 lead.
(The Canadian Press)