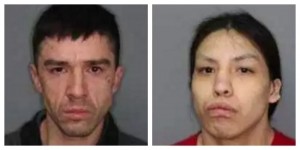 Saskatoon police are asking for the public's help in finding two men who have been reported missing for at least a week.
32-year old Barry Heimbecker and 21-year old Neilson Kakum were last seen on Sunday, March 20.
Friends say they were spotted at a home in Saskatoon's Fairhaven neighbourhood.
In a media release, Saskatoon police say after speaking to a friend on the phone around 9:30 that evening, they were seen  walking north in a field toward Highway 7 near Vanscoy to get a ride.
It's believed the two may have entered a silver, four-door Chrysler 300 when they disappeared.
The car was later found about 18-kilometres
south of Delisle just off Highway 45 near Swanson
.
Police say both men were associated with gang activity in Saskatoon.
However their families say it is not normal for them to go such a long period without contacting anyone and are concerned for their safety.
Authorities are requesting landowners check their property near this area.