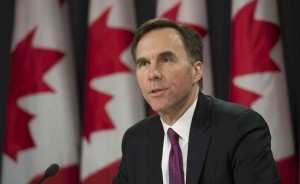 Finance Minister Bill Morneau is defending the government's decision to boost E-I benefits for parts of the oil patch, while leaving others off the list.
Morneau says the Liberals had to decide which areas across the country needed the most help with more employment insurance benefits.
He tells C-T-V the government picked 12 regions that are dealing with a significant, sustained spike in unemployment.
Left off the list were cities like Edmonton, and parts of Saskatchewan that Premier Brad Wall has said could also use the help.
(The Canadian Press)