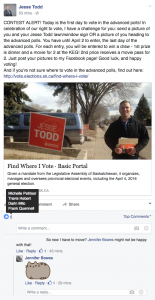 Elections Saskatchewan has decided against issuing any sanctions towards a Saskatoon NDP candidate who made a facebook posting which caught some attention for the wrong reasons.
The NDP's Jesse Todd put up a Facebook post yesterday asking people to send him a picture of themselves with one of his lawn signs or a picture of them at an advance poll to be entered into a draw for the dinner and a movie for two.
The NDP says Todd was just trying to create excitement as advance polls had just opened but to avoid confusion, the post was taken down and the contest stopped.
Elections Saskatchewan says staff contacted Todd telling him he was in violation of the Elections Act.
But with the post removed, the matter is considered to be resolved and closed.