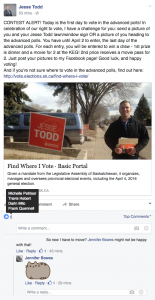 The NDP candidate in Saskatoon Eastview is apparently running a contest for votes. There's seems to be an opportunity to win not necessarily a vote for Jesse Todd but even a chance to win, if voters just get out there and cast a ballot.
The Saskatchewan Party emailed a screen shot from Social Media of the contest which indicates that NDP candidate Jessie Todd is allegedly offering first and second place prizes to those who send in a picture of themselves with a Jessie Todd campaign sign or a picture of themselves heading to the advance polls.
The now former campaign manager, Frank Quennell, also appears to have clicked "Like" below the post.
The SaskParty claims this is in direct violation of the Elections Act.
The NDP says the candidate in question was just trying to generate some excitement with the voting process, but the post which appeared on Facebook has been removed.
Elections Saskatchewan is expected to make a comment on this later today as they are currently reviewing the situation.