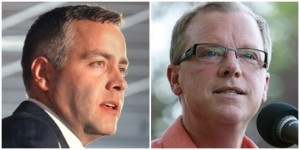 Party leaders plan some election stops in Saskatoon Thursday.The NDP's Cam Broten is attacking Brad Wall on the Boundary Dam issue saying the carbon capture unit at Boundary Dam 3 was shut down for a quarter of the month.
Broten says Wall and the Sask. Party was paying tens of millions of dollars for penalties and repairs.
Saskatchewan Party Leader Brad Wall says Dam 3 around the clock in the month of March capturing close to 90% of the time in 2016.
Wall says he plans to continue to keep Saskatchewan strong and not go back "to the way things were under the NDP."
Broten said Wednesday Wall and his government should have made the budget public and given people a look at the numbers before the provincial election was called.
Wall, meanwhile, admitted most of his policy announcements have been made in the big cities because that's where the media is, but he visited several smaller spots on Wednesday.
He said some of his campaign promises will help rural Saskatchewan, including a new tax credit for volunteer firefighters and first responders and 70 million dollars over three years to repair more highways.
In the meantime, voters in Saskatchewan seem intrigued – at least at this stage – by the campaign.
Number from Elections Saskatchewan point to a higher turnout in advance polls.