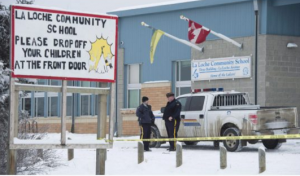 The community of La Loche is still reeling after the shootings that killed four people and injured eight in the small Dene community just over two months ago.
MP Georgina Jolibois, who lives in the community when she's not in the House of Commons, says schools are doing their best to keep kids' minds off the tragedy, but it is still tough to access programs for mental health, addictions, and finding a physician.
Jolibois says residents are doing their best and moving forward, but people are still grieving, not only from the shootings but from other family members passing away.
Jolibois says La Loche, the Clearwater River Dene Nation, and the provincial and federal government have formed committees to come up with plans on how to provide support to both communities.
However, Jolibois says discussions on the issue are moving very slowly.
She is hopeful that they can work on addressing the concerns in the community.
(CJWW)