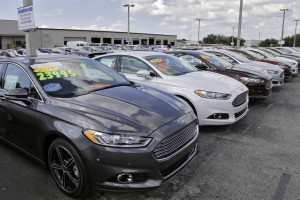 Auto sales set yet another monthly record in March as Canadians continued to buy cars and light trucks in record numbers.
DesRosiers Automotive Consultants says overall sales improved 9.3 per cent last month to 175,142, which it described as "the best March on record by a significant margin."
Growth in the sales of light trucks, which includes SUVs, minivans and pickups, more than offset a decline in car sales.
By category, passenger car sales totalled 61,729 vehicles, down four per cent from 64,322 in the same month a year ago, while light truck sales rose 18.2 per cent to 113,413 from 95,952 in March 2015.
The March figures come on the heels of record sales in February, when manufacturers reported combined sales of 119,201 cars and light trucks.
(Canadian Press)