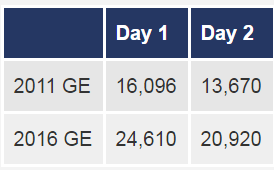 Advance polls in the Saskatchewan election continue to see high voter turnout.
According to the Elections Saskatchewan website, close to 45-thousand people have cast advance ballots.
It's a significant increase from the numbers reported from the 2011 vote.
Residents in the province officially go to the polls Monday, April 4th.
Advance ballots are held for voter who cannot, or choose not to, vote on the regular voting day.