Harvard Broadcasting was recognized for achieving excellence at the 17th-annual Paragon Awards Friday night.
Harvard, which owns 620 CKRM, MY 92.1FM and The Wolf won the 2016 Paragon Award of Excellence for Community Involvement.
Harvard Broadcasting is the radio industry arm of The Hill Company – a family-owned corporation based in Regina.
Currently with 13 stations throughout Western Canada, Harvard Broadcasting is committed to delivering quality programming, promotes Canadian Content Development and is committed to every community it serves.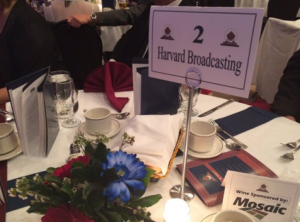 Harvard is known for its Regina community committments, such as the Childrens' Hospital Radiothon which raised $517,477.30 in 2015.
The two-day, 23 hour event was broadcast live on 620 CKRM, MY92.1 and 104.9 The Wolf from the lobby of Hill Tower II.
Since it began, the Children's Hospital Radiothon has raised nearly $3.9 million for both urgent pediatric equipment needs and the province's new children's and maternal hospital.
+++++
This year's winners are:
Young Entrepreneur – Sean Stefan – The Rusty Shovel Landscape Shop
Community Involvement – Harvard Broadcasting
Community Alliance – The Leader-Post – Christmas Cheer Fund
Marketing and Promotional Achievement – Hillberg & Berk
Export Achievement – Viterra
Customer Service Excellence – Wascana Flower Shoppe
New Business Venture – Envirotec Services Inc.
Diversity – RBC
Environmental Excellence – DoubleTree by Hilton
Business of the Year – Hillberg & Berk
"It was a terrific evening. The Paragon Awards symbolize excellence in the business community and the Chamber is proud to honour our local success stories. We are grateful to all of the sponsors and those who helped to make the evening such a success. Overall, it was an exceptional celebration of success in our community," said John Hopkins, Chief Executive Officer of the Regina & District Chamber of Commerce.
Nomination forms for the 2017 Paragon Awards will be available this fall.