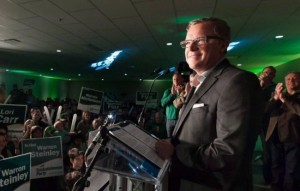 It is another convincing win for the Saskatchewan Party and Brad Wall.
Saskatchewan voters have decided overwhelmingly to put Wall back into the Premier's chair on a night where the NDP has had minimal gains.
As of 915 PM, the Saskatchewan Party were leading or elected in 49 ridings while the NDP were leading or elected in 12.
Brad Wall has won his seat in Swift Current, but NDP leader Cam Broten is in danger of losing his Saskatoon Westview riding to the Saskatchewan's Party David Buckingham.
Saskatchewan Party candidates of note to have won tonight include Dustin Duncan, Kevin Doherty, Don McMorris, Bill Boyd and Gord Wyant.