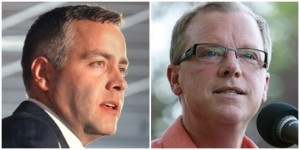 It's election day in Saskatchewan and the campaigning is over after a hectic 27-day campaign.
Both SaskParty Leader Brad Wall and NDP Leader Cam Broten spent time with family on Sunday.
Brad Wall was home in Swift Current, relaxing before the election today.
Broten was out with his family at a BBQ in Regina.
Today, Wall voted in Swift Current.
Wall will then join supporters later this evening at the Palliser Pavillion.
Broten voted in the advanced polls last Tuesday, and will join his supporters in Saskatoon tonight.
Polls close to the public at 8:00 p.m.
Join 620 CKRM News live at 8:00pm, when the polls close, for complete coverage and results.
There will also be real-time results on our Facebook page and Twitter feed.