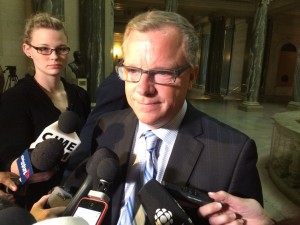 Premier Brad Wall says he hopes to get back to the legislature as soon as possible.
Wall says there is a process for candidates to officially become members of legislature, which could take a few weeks.
He says there is lots of work to be done once the proper steps are taken to reform government.
"We'll present a budget to the people of Saskatchewan, we expect that to be around the end of May, maybe June 1."
Prime Minister Justin Trudeau called to congratulate Wall on his win last night.
Wall says they had a brief talk about the new policy on Employment Insurance claims in Saskatchewan.
"We want to continue to talk about the Employment Insurance decision the government has made, that has excluded two thirds of our oil patch and Edmonton."
Wall says the Prime Minister is willing to engage in the discussion around the changes.
The Premier says he will continue to be an advocate for Saskatchewan interests and stand up for the province's energy sector.