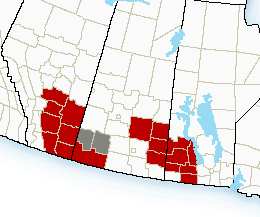 A spring storm system is developing over parts of southern Saskatchewan.
This morning, we are seeing a significant change in the weather.
Last night, southwest regions of the province saw 5 to 10 mm of rain.
As the system tracks east, winds will shift into the north behind the system this morning and become quite strong with gusts to 80 km/h over parts of southwest Saskatchewan, and 90 km/h over extreme southwest regions and the Cypress Hills.
These winds will draw in colder air causing rain to change to snow later this morning.
Snowfall amounts of 5 cm are possible for most areas with 10 cm or more possible over the Cypress Hills.
Conditions are expected to improve by late afternoon as the storm system moves into North Dakota.
For the Regina Tuesday, Environment Canada says we can expect the rain to change to snow near noon with gusty southeast winds.
The high Tuesday will reach about 5 degrees.