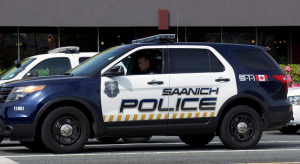 A Saskatchewan man is accused of forcing his way into the home of two young women on Vancouver Island and sexually assaulting one of them earlier this year.
Saanich police allege 43-year-old David Hope of Saskatoon then herded the women in their early 20s to a nearby bank and forced them to withdraw money before running off with cash.
Acting Sgt. Jereme Leslie says it's alleged Hope got inside the women's apartment near the University of Victoria by banging on the glass door, then muscling his way in when someone answered.
Hope has been charged with break and enter, sexual assault, two counts of robbery and two counts of forcible confinement.
(The Canadian Press)